TTD Calendar 2022 PDF | Dairy | Panchangams Order Online tirupatibalaji.ap.gov.in: Tirumala Tirupati Devasthanams publishes and releases calendars (TTD Calendar 2022 PDF) every year. It is a beautiful calendar that displays the attractive images of Lord Sri Venkateswara Swami. It contains the important dates of the festivals, Pujas, Vratas, and celebration events at the temple. Therefore it is a long-time tradition of the TTD board to publish and release TTD Calendar 2022 PDF Downloads, Calendars, and diaries.
TTD Calendar 2022 PDF January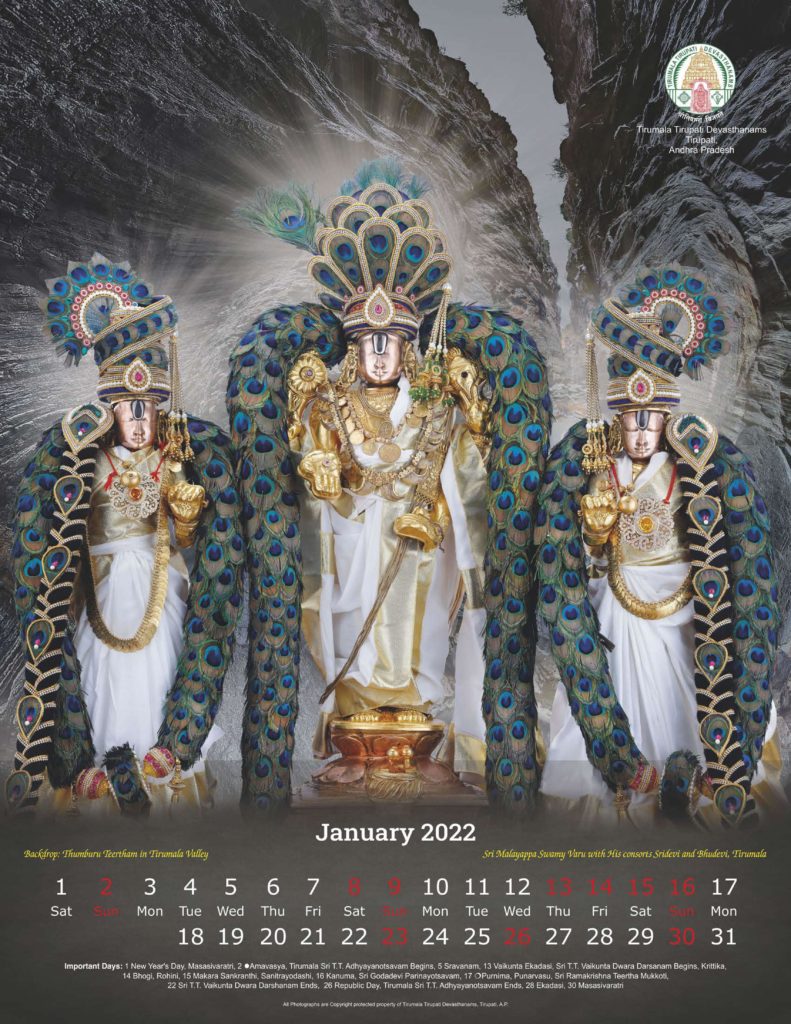 TTD Calendar 2022 PDF February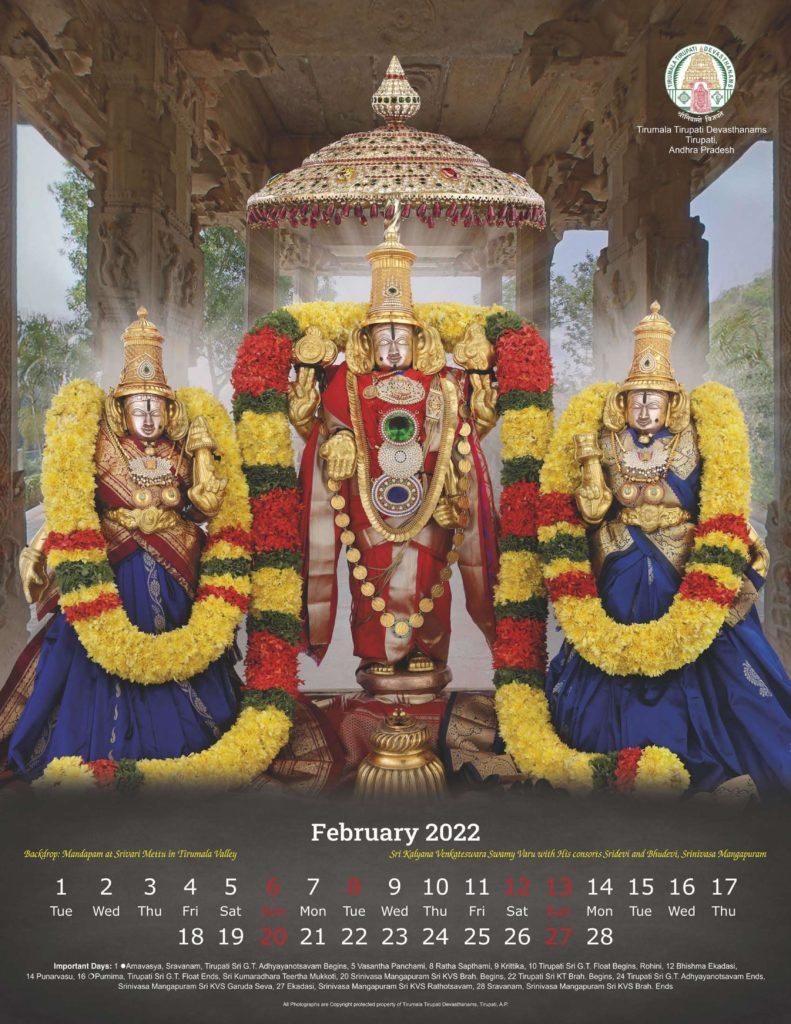 TTD Calendar 2022 PDF March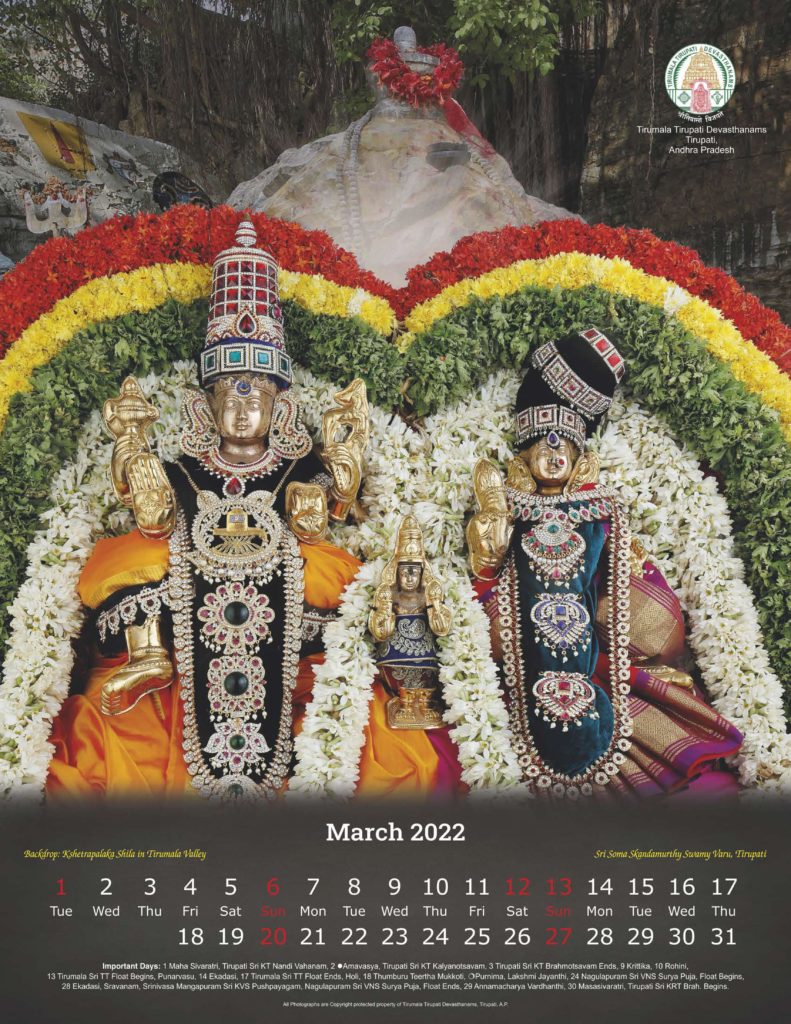 TTD Calendar 2022 PDF Aprial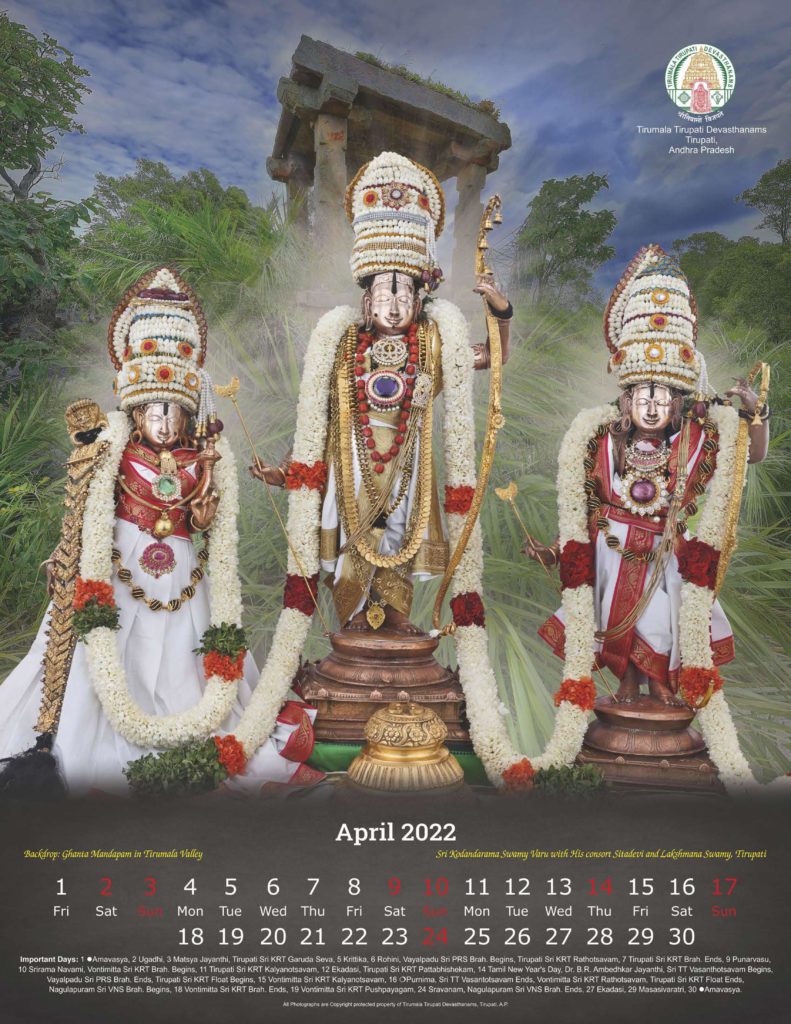 TTD Calendar 2022 PDF May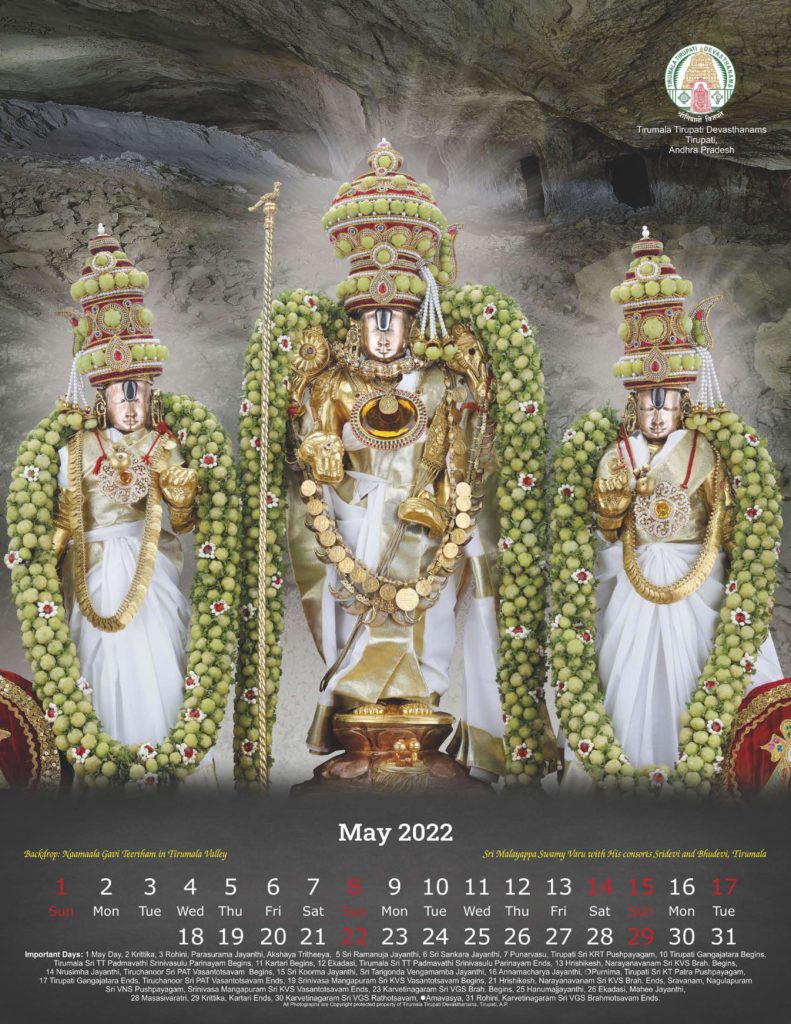 TTD Calendar 2022 PDF June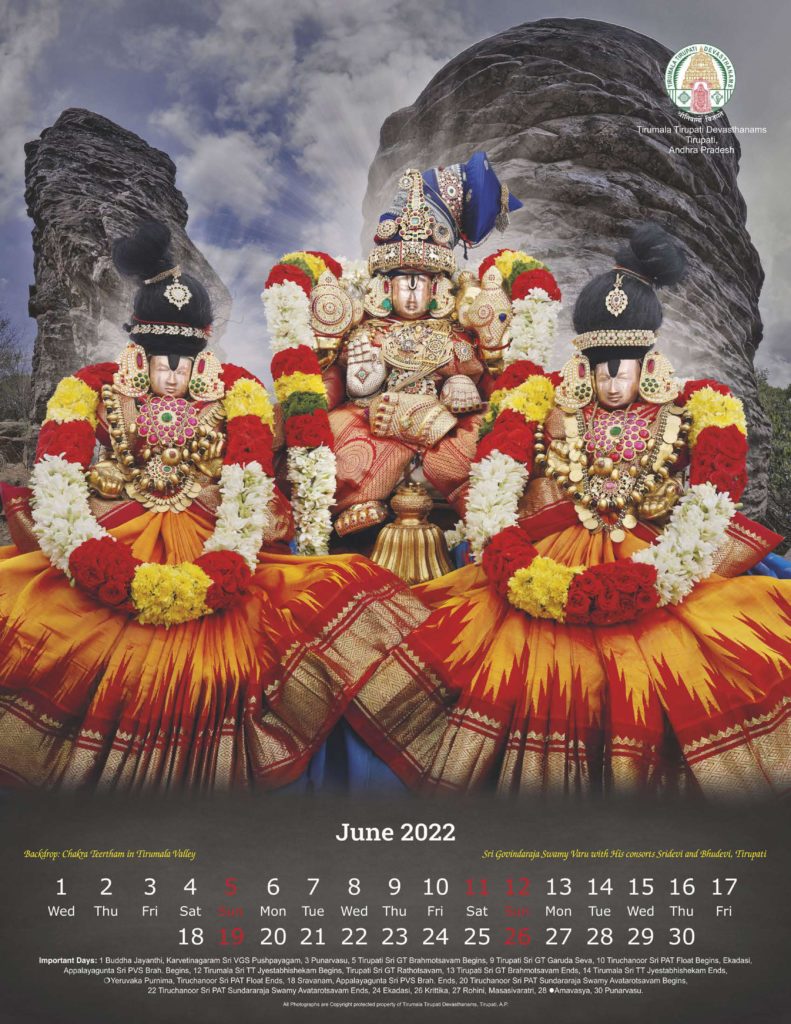 TTD Calendar 2022 PDF July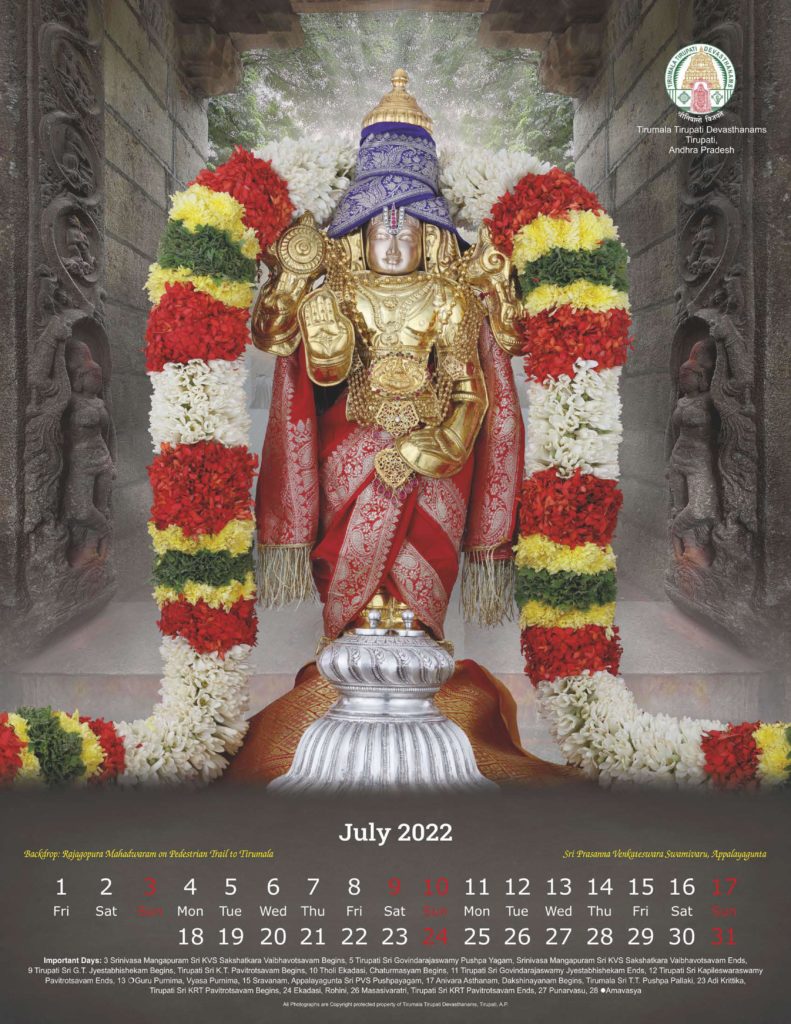 TTD Calendar 2022 PDF  August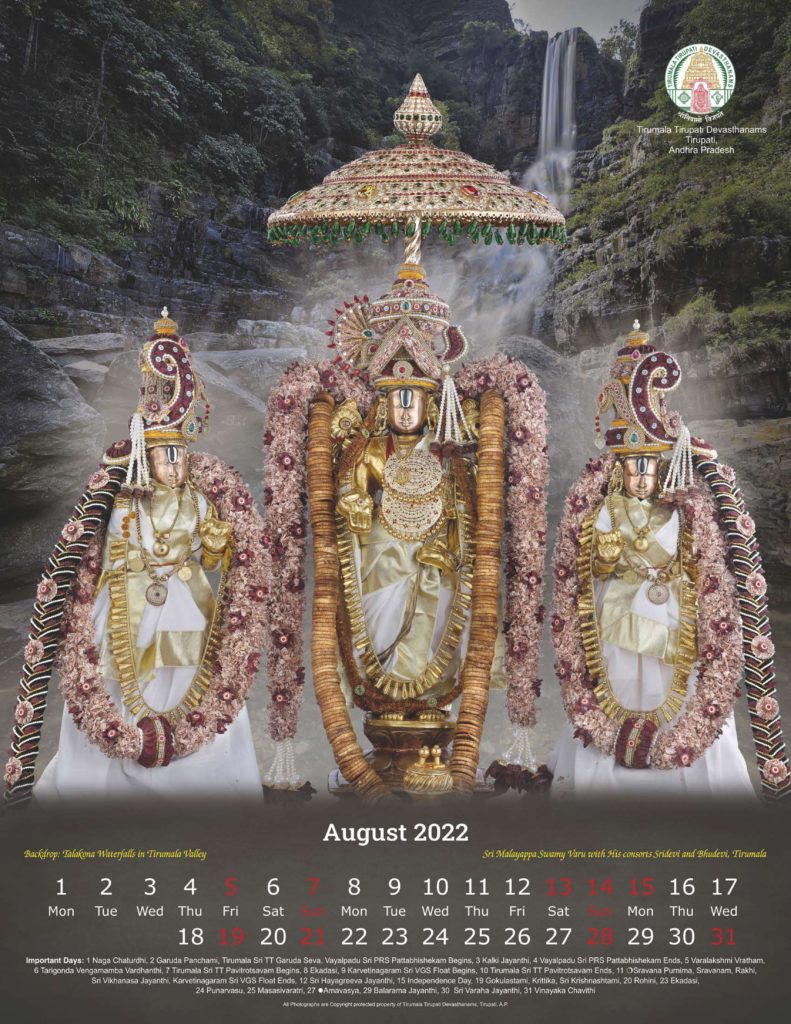 TTD Calendar 2022 PDF  September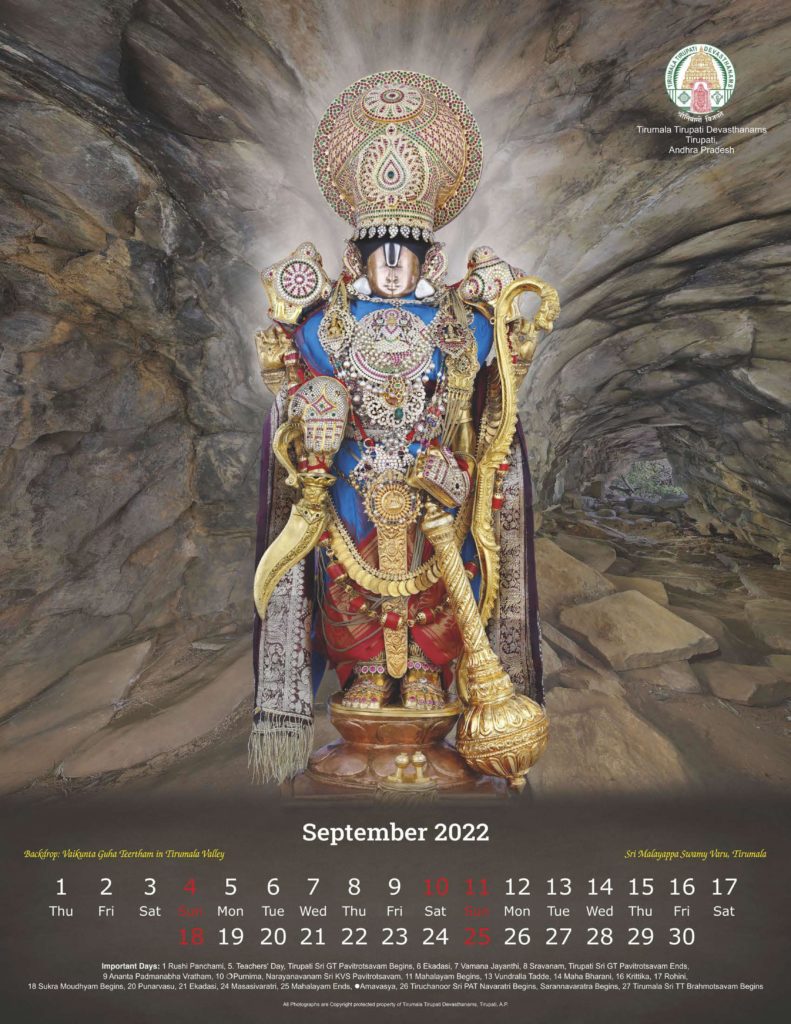 TTD Calendar 2022 PDF  October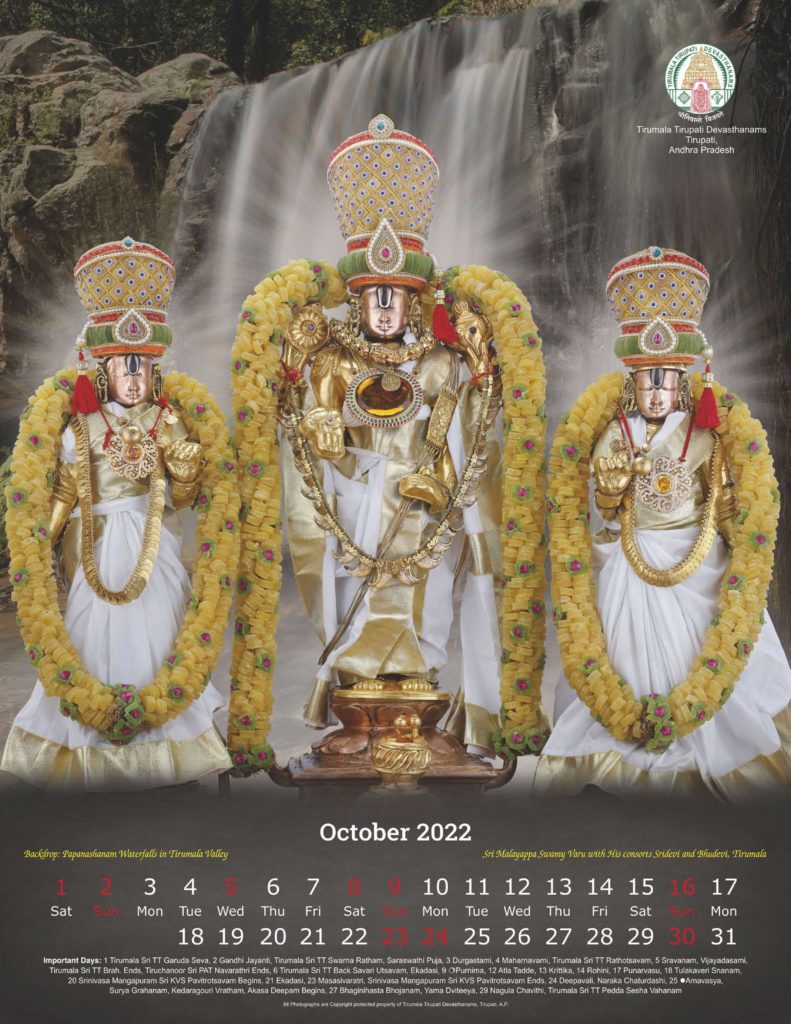 TTD Calendar 2022 PDF  November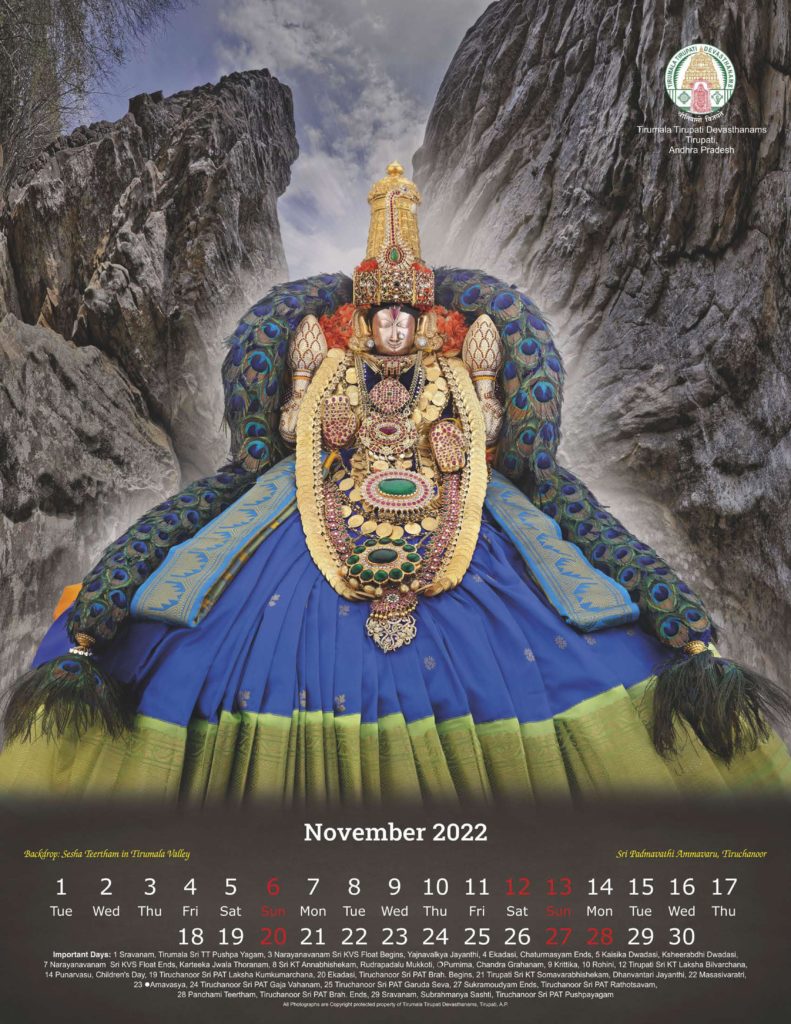 TTD Calendar 2022 PDF December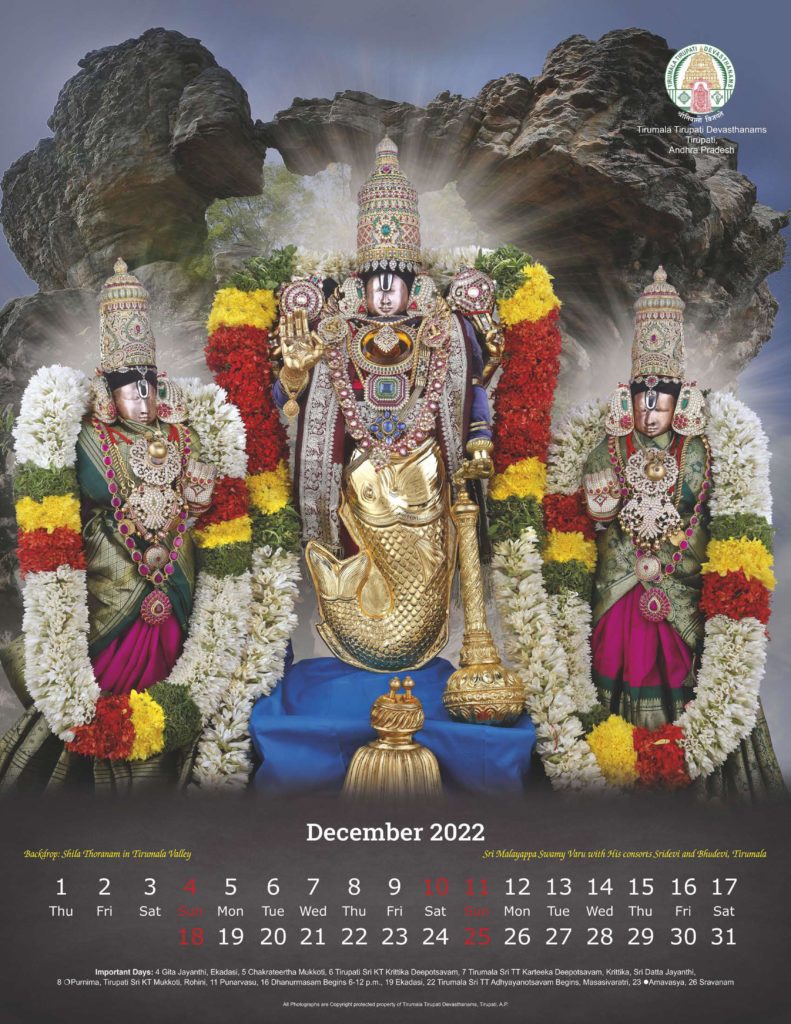 Year by year devotees is showing interest to purchase different varieties of Calendars. So in order to attract more and more buyers, the TTD board has started printing more variations of pictures. This includes the image of Lord Venkateswara, Abhishekha Aaradhanai, goddesses on different carriages during festivals, Theerthavari, and Varalakshmi Viratham in the regular monthly calendars and even diaries.
Due to the implementation of GST in 2018 TTD has increased the prices of the calendars and diaries.  Therefore the activity of preparing and printing the next year's calendar starts during June in the current year. Presently, TDD has assigned this task to a private agency. As a long-time tradition, the diaries and calendars will be released in an opening function by the Andhra Pradesh state Chief Minister the day before the beginning of Brahmotsavam.
Many disciples buy these Calendars and diaries every year. So these are marketed by selling not only in the publication stalls but also outside bookstall vendors. Therefore these are Obtainable at Tirumala Tirupati E-darshan Counters located at Chennai, Pondicherry, Vellore, Hyderabad, Kakinada, Chirala, Vizag, Guntur, Anantapur, Vijayawada, Bangalore Amaravathi, Rajahmundry, Mumbai, Nellore, Kolkata, and New Delhi. But, devotees can purchase the calendar from TTD through their online website and download TTD calendar 2022 pdf Telugu. 
Prices of the various TTD Products:
Twelve-sheet calendar -₹100

Srivaru and Padmavathi calendar -₹10 

Srivari / Sri Padmavathi solo big calendar -₹15

Big diary -₹130

Small diary -₹100

Tabletop calendar -₹60

Telugu Panchangam -₹20.
Instruction to Purchase TTD Calendars 2022: 
TTD Calendars, panchayats, and diaries can be purchased directly from the Tirumala Tirupati Devasthanams online or offline services.

Login to the TTD official website www.tirumala.org with your email ID and password. 

If you are new to the website, register your details and it will take you 10 minutes to submit your information

then log in, under services, click on Calendars or Diaries or Panchangam

so select the Calendars/Diaries depends on your interest and enter the quantity and click Proceed

bookings and purchases are subject to availability

Shipping or transport is available for both Domestic (pan-India) and international

Packing and shipping costs are calculated based on the destination for delivery and order quantity

The order booking confirmation will be sent to the customer's registered email id and mobile number via SMS.

If once the order is placed, it will be treated as final and refund, any modification and cancellation shall not be permitted.

Within 7 working days, your order will be delivered to your shipping address

once the order is shipped, the shipment/tracking number will be sent through SMS for the order tracking, so that customers can easily track the details 

For any inquiries, the people can contact the 24×7 help desk at 1800-425-333333 and 1800-425-4141.



TTD Calendar 2022 Offline Purchase:
TTD Calendars 2022 PDF Telugu is right now available at all the TTD Publications in Tirumala, Tirupati, and other major cities. Pilgrims and devotees can buy the TTD calendars 2022 Images on the spot and can pay on the spot itself. Please note, TTD is publishing different varieties of Calendars but only some types of calendars are available in some centers in some cities. If you are unable to purchase the desired calendar according to your wish offline. Then you can buy the TTD calendar online by following the below procedure.
How to book Online TTD calendar 2022:
To buy TTD 2022 Calendar and diaries First visit the Tirumala Tirupati official website www.tirumala.org 

Select the calendar of your interest 

Choose the sub-category and quantity of the calendar

Click on the proceed tab

then fill in the essential details like your name, age, gender, phone number, shipping address, email address.

Click on the continue button

once check your order details

Select a mode of payment and complete the payment process

After the successful submission confirmation message will be sent to the registered mobile number

you have successfully purchased the TTD 2022 Calendar online
Delivery Details of TTD 2022 Calendar
Packing and Shipping charges will be applicable to every purchase 

Shipping charges will differ based on the amount and location of the shipment

Packing costs will depend on the quantity ordered

while placing the order please check the final amount to be paid before continuing to the payment gateway 

after successful placing an order, an SMS will be sent by the postal department with shipment ID for tracking

All bookings are final and no changes/cancellations are entertained

Your order will be sent within 7 days to the given shipping address

If you have any queries or inquiries please contact 08772233333 / 08772277777
TTD Calendars/ Diaries Available Stores:
Tirupati: Tirumala Tirupati Devasthanams Publications, Near Govindarajaswamy temple, Srinivasan, Vishnunivasam, Tiruchanoor

Tirumala: Opposite Srivari temple, ATC, and Annaprasadam complex.

Karimnagar: TTD E-Darshan counter, Karimnagar

Hyderabad: TTD Kalyanamandapam, Himayatnagar, Hyderabad

Vizag: Tirumala E-Darshan Kalyana Mandapam, Vizag

Bengaluru: Sri Venkateswara Swamy Temple, 16th Cross, Vayalikaval.

Chennai: Near Sri Venkateswara Swamy Temple, Venkatanarayana Road, T Nagar.